Additional Support
Emotional and Physical Health & Wellbeing
Keep Fit!
While the Academy is closed it is important to make sure that you get daily exercise to help with both your physical and mental health. When taking exercise it is important to make sure you are following all government guidelines and keeping your distance from anyone who is not in your household. Below you will find some links to help you keep fit while staying in your home or own garden. These include daily P.E. lessons from Joe Wicks (The Body Coach) on youtube and also a month worth of different daily exercises that you can complete. Please remember to keep safe while doing any form of exercise!
Mental Health Support
You might be worried about coronavirus (COVID-19) and how it could affect your life. This may include having to stay at home and avoid other people.
This might feel difficult or stressful. But there are lots of things you can try that could help your wellbeing.
The mental health charity, MIND, have some great information to help with keeping your Mental Health in top form.
Kooth.com - Online support for young people
Kooth is a web based confidential support service available to young people. Kooth provides a safe and secure means of accessing mental health and wellbeing support designed specifically for young people.
Kooth offers young people the opportunity to have a text-based conversation with a qualified counsellor. Counsellors are available from 12noon to 10pm on weekdays and 6pm to 10 pm at weekends, every day of the year on a drop-in basis. Young people can access regular booked online counselling sessions as needed. Outside counselling hours' young people can message our team and get support by the next day.
When students register with Kooth they will have support available to them now and in the future. Support can be gained not only through counselling but articles, forums and discussion boards. All content is age appropriate, clinically approved and fully moderated.
To find out more visit kooth.com where young people can register and others can find out more about the service.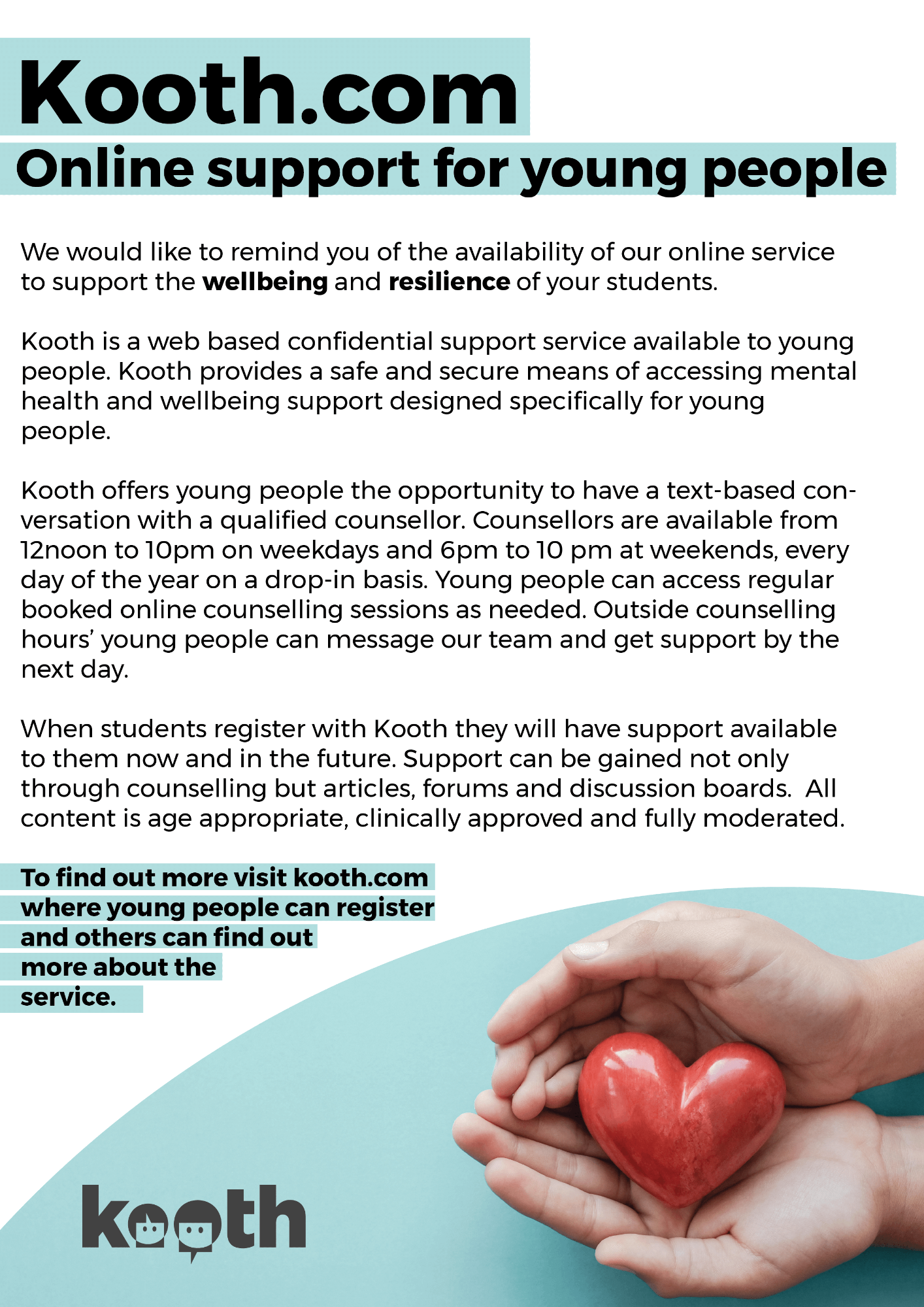 Mind To Be Kind
Every week we will make live a presentation based around one of our 5 key values. These values include 'Dreaming Big', 'Rewarding Effort', 'Leading Together', 'Respecting each other and our world' and 'Learning that inspires'. Each week we will pick a different theme for these presentations. During the COVID-19 Academy closure these will be based around improving the mental wellbeing of our learners.
Mind To Be Kind - Wellbeing - Week 26
Mind To Be Kind - Patience - Week 27
Learner Wellbeing