Values, Mission and Vision
Our Mission
With the support of Dudley Academies Trust, we will become an inspirational academy which instils ambition and desire in young learners, opens their minds, widens their horizons and equips them to succeed in a challenging world.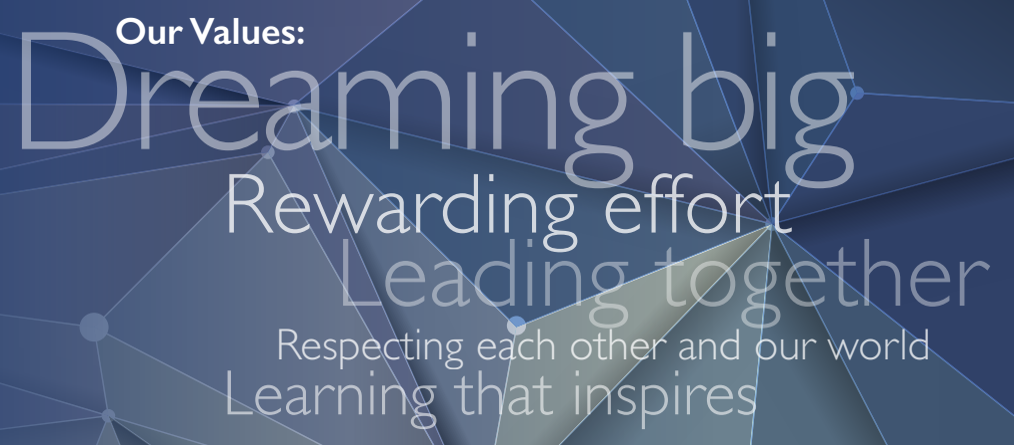 Our Vision
By 2021, we will be a first choice for young people and parents in north and central Dudley. More young people than ever before will have enrolled into our academy. Parents will feel proud of their children as they progress and develop here.
Our innovative teaching and learning will have ensured a marked improvement in learner attainment. Teaching will be active, exciting and inspiring, focusing on the needs of individual learners. Our teachers will make best use of the latest available learning technologies. Our relentless focus on aspiration will ensure more of our learners achieve high grades; both learner attainment and achievement will be at or above national rates.
Our curriculum will be rich, broad and varied, meeting the needs of learners of all abilities. Exciting new programmes, designed and developed in partnership with our sponsor Dudley College of Technology, will complement our existing offer. We will have developed alternative pathways to meet the needs of our most challenging learners.
Links with employers will ensure our learners are well prepared to take the next steps into successful careers. Effective information, advice and guidance will ensure our learners are challenged to identify appropriate career pathways and set aspirational targets for themselves. Our learners will secure positive futures, with greater numbers progressing directly into apprenticeships, technical education programmes and A levels.
We will have developed enhanced support services for all our learners including services to support their mental health and wellbeing. Our learners will be strong and resilient and will flourish in a culture where they want to learn.
Our learners will report high levels of satisfaction. As socially aware young people they will understand how to best conduct themselves, professionally and socially, and to keep themselves safe. Our learners will enjoy school and will feel happy in a safe environment.
Our staff will also feel happy, positive and motivated. All our staff will have the opportunity to develop their careers to whatever level they aspire. Potential new employees will actively seek out opportunities to join our teams.