Careers & Progression
Dreaming Big: careers advice and making the right decisions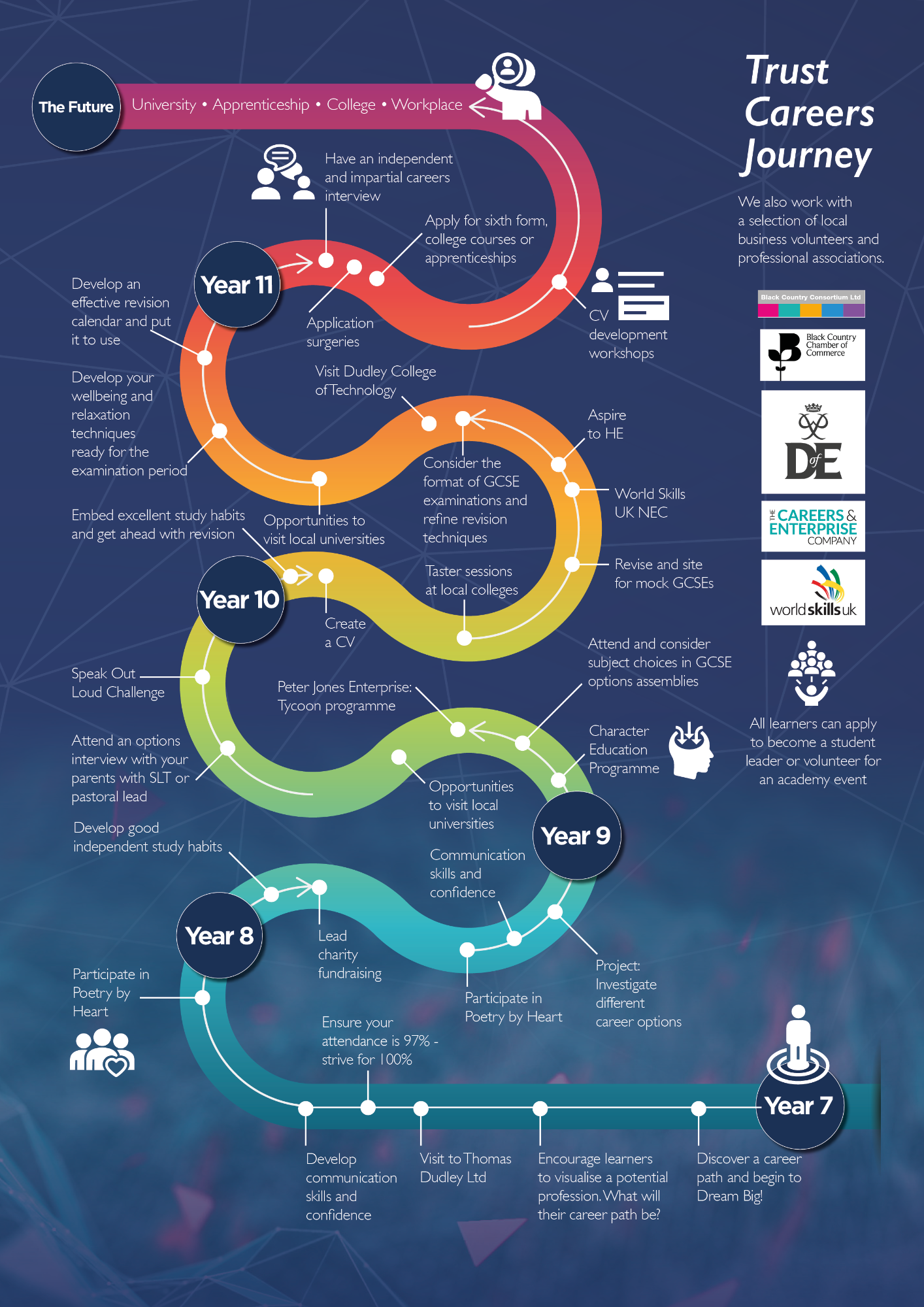 Dudley Academies Trust recently announced a major careers education programme. We've now produced a simple diagram to explain some of the things that your children will be learning and some of the activities they will participate in. Click here to take a closer look!
In every year, learners benefit from high quality impartial careers advice and guidance. A Trust-wide team ensures that all learners can understand the relevance of their education to their later choices and we encourage them to plan for their future. We know that if children are 'Dreaming Big' about what they want to do in life, they will work harder, achieve more and be happier.
At Pegasus Academy we are committed to providing a comprehensive planned programme of careers education for all students in Years 7-11 and information, advice and guidance in partnership with the local authority and external providers/professionals. We are committed to ensuring our students emerge from the Academy with knowledge and character attributes to make informed and realistic decisions whilst maintaining high aspirations.
The Academy is committed to follow the government's new Careers Strategy (published January 2018) and aim meet the 8 Gatsby Benchmarks by the end of 2020 as per the guidance. We will use the Compass Audit tool to evaluate our Careers impact and measure our progress against the Gatsby Benchmarks and use Tracker to improve the quality of provision. The Academy has become part of the Black Country Careers Hub and will work alongside The CEC to deliver a high quality careers education for all Students.
As well as a wide range of events throughout the year, including Careers Events, Enrichment Days, Visiting speakers /Business breakfasts, off site visits, CV and Mock Interview events. Mrs Z Turton is available for discussions/help regarding career pathways by appointment before School, at break time and after school in the careers office.
Careers Documents
Click below to see documents relating to careers & progression education here at Pegasus Academy.
Quality in Careers Standard
We are proud that we achieved this Status in July 2017.
The Quality in Careers Standard is the national quality award for careers education, information,advice and guidance
(CEIAG) in schools, colleges and work-based learning. It is fully aligned with the eight Gatsby Benchmarks for "Good Career Guidance" and fully complies with the Department for Education's 'statutory guidance'.
To gain the national Quality in Careers Standard, you must provide sufficient current evidence to demonstrate that you meet all the national quality assessment criteria in your overall CEIAG provision.
Only with external assessment of the quality of CEIAG, through the Quality in Careers Standard, can you be confident that you are providing the quality of the best for all your students/learners.
CareerFit
The following booklet provides help and guidance to assist you in exploring your career choices.
Things to consider:
Do you know what you want to do when you leave school?
Do you need information how to reach your goal?
Do you need help to figure out what your career goal is?
Dudley Academies Trust are here to help you Dream Big!
Download Dudley Academies Trust CareerFit Booklet
Labour Market Information
Labour market information can be everything from overwhelming and confusing in-depth statistics to hearing about a potential employer starting up near where you live. Learning how to use it can help young people to make informed decisions about their future study and career choices. Labour market information tells you about what is happening in the job market at national, regional and local levels and includes information about jobs and salaries, what skills employers are looking for in different industrial sectors, conditions, communities and future trends.
Labour Market Profile – Nomis – Official Labour Market Statistics
Black Country Skills Factory – Local Labour Market Information
National Careers Service Job-profiles
The National Careers Service Job Profiles contain information about the types of jobs available in different areas, which industries are growing, which need staff to replace those leaving and the skills which these employers will be looking for. The National Careers Service Job Profiles contain information on the skills and qualifications required for over 750 jobs. You can also find out about the work involved, salaries you and career prospects. Click here to view.
Useful Links
Careers and Higher Education Information, Advice and Guidance online Resources All useful links
Dudley Connexions: http://www.connexionsdudley.org/
Apprenticeships: www.apprenticeships.gov.uk
A-Z of Apprenticeships: https://www.gov.uk/government/publications/a-guide-to-apprenticeships
How 2 Become: https://www.how2become.com/
Alumni / Careers & Business Mentors
Pegasus Academy needs your help: do you run a local Business, are you a past students or have you an interesting or different Career?
As part of our wider careers programme we are always looking for professionals/past students to work with us. Are you able to act as a mock interviewer? An inspirational Mentor? Can you offer careers talks? If you would like to be involved in the rich pool of local talent we are assembling, please contact Mrs Z Turton (zturton@pegasusacademy.org.uk) who will be keen to discuss opportunities for you to join our programme.